Overlooking the lively City Center of Charlotte in North Carolina, artist Paul Housberg's abstract glass installation on the exterior of 101 North Tryon provides a colorful distillation of memory and contemporary life. At 25-feet high and 14-feet across, the large-scale piece further animates an area rich in historical significance. The famed intersection of Trade and Tryon at which it is located is known as Independence Square after the Mecklenburg Declaration of Independence, often believed to be the first declaration of independence made during the American Revolution, and today it is host to a district teeming with commerce, art, and restaurants. Housberg's work, created in collaboration with Wagner Murray Architects, "honors the historic significance of its location while celebrating the city's robust commitment to contemporary art and culture," to quote from its press release.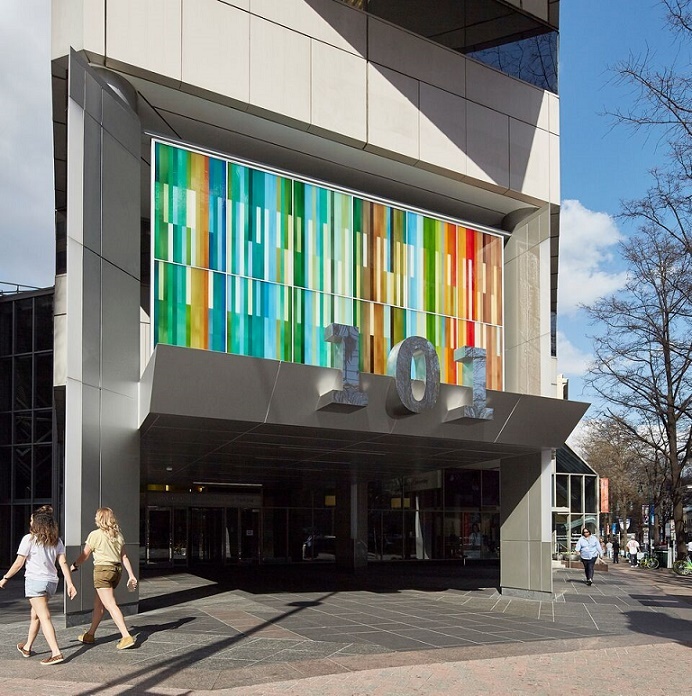 The composition features cut and laminated mouth-blown glass, and is "deliberately abstract, referencing fragmented memories of decades past layered with the shimmering colors of the urban present." Reflecting surface light during the day, its panels are backlit with 50,000 LED lights by night, limning the building's entrance in welcome tandem with the surrounding cityscape.
Its creator, Paul Housberg, is known for creating site-specific works in glass for corporate, hospitality, healthcare, and public environments. With an interest in the "tactile qualities of glass and the expression of its materiality," his work "explores the juxtaposition of order and randomness, as well as the natural human tendency to seek pattern in chaos, our persistent desire to find meaning in disorder."
Housberg began his career studying painting at the Rhode Island School of Design (RISD), where he received his Bachelor of Fine Arts and Master of Fine Arts degrees and has also served as an instructor. He has studied under Dale Chihuly and Patrick Reyntiens, and worked as a Fulbright Scholar at the International Center for Glass Research (CIRVA) in Marseille, France. His previous work includes installations for the MetLife Building in New York City, the William J. Nealon Federal Building and U.S. Courthouse Annex, the J. Willard Marriott Library, and Logan Airport. Born in New York City, Housberg now resides in Jamestown, Rhode Island.
Glass spoke to Housberg about his installation in Charlotte, his inspirations and vision, and his thoughts on the complexities of public art.
Glass Quarterly Hot Sheet: Tell me about your vision of translating history into an abstract composition.
Paul Housberg: For every piece that I create, all sorts of parameters must be considered. It's innate to doing commissioned architectural work. I'm thinking about the location, the site, its history, its contemporary identity, the people who move through it; and I'm also thinking about the architect's vision, the client's preferences, technical constraints, the budget. I immerse myself in the nature of the circumstances, the conceptual and the practical, and out of that process the composition emerges.
My recent installation in Charlotte, like most of my work, is based on a grid. I've long been drawn to the grid, in part, because it relates to architecture as one of its essential structures: square rooms, walls at right angles, the basic shape of most building materials. At some point, what began as a solution to a technical problem became the inspiration for a certain kind of artistic freedom. As I worked with architect David Wagner to envision a piece for the newly renovated entrance of 101 North Tryon, we considered not only the identity of the building itself, but the entirety of the context in which it is situated. We wanted to create a signature piece that would honor the area's historic past, while imbuing it with a new colorful liveliness at all hours of day and night. An abstract composition can hold all of those layers, all of that nuance.
Glass: How does your background in painting inform your glass and architectural work?
Housberg: As an undergraduate student at RISD, I studied painting. The paintings I was making at the time had an atmospheric quality, predominantly one color, abstract, with paint that was layered up to create a textured surface. Much of the glass that is used in traditional stained glass already embodies similar qualities, so I suppose it's no surprise that I eventually turned to glass. But my greatest influences remain painters--Mark Rothko, Clyfford Still, Carlos Cruz-Diez, Yaacov Agam, Agnes Martin, too many to name. I'm interested in glass from a painterly perspective, often focusing on colors, layering, and an approach to composition that has more in common with color field painting than, say, something more representational. Sometimes my work still involves painting on the glass. Other times, such as with the Charlotte piece, I'm working directly with colored glass to create an environmental experience of color.

Glass: Could you comment on what drew you to the medium of glass?
Housberg: I became interested in glass in part because I was drawn to the craft aspect – the idea that you were fabricating something using very specific processes and materials, as opposed to pushing paint around on a canvas. I don't mean to suggest that there is no craft to painting; quite the contrary. But, with glass, one begins with a solid material that one can hold - a solid material that has weight, that refracts light, that can cut you if you are not careful, that one can react to.

Glass: I read on your blog that the difference between gallery and public art is of particular interest to you. What are some of the particular challenges of making public art you've faced? And how about specifically for this project with the Charlotte City Center installation?
Housberg: One of the biggest challenges in making public art is the fact you're dealing with a very particular audience - that is, the general public. When an artist creates work for a gallery space (or a museum, or a private collection, or for the pure act of creation), she knows that her audience will be largely composed of people who are deliberately seeking out art – if she is even concerned about having an audience. In contrast, public art will be seen mostly by people who didn't seek it out. Instead, they will be confronted by it as they make their way to other destinations. So it must be accessible and engaging on some level for the widest possible variety of people, yet also—in my opinion—meaningfully contribute to the greater design of the space.
My process for the Charlotte City Center piece was uniquely challenging (but also exciting) in that it involved a whole lot of long-distance collaboration. The clients and architects were in Charlotte; I'm based in Rhode Island; and Derix Glass Studios (my fabrication partners) as well as Lamberts (one of my preferred glass resources) are in Germany. The whole team worked closely together, but almost completely via phone and email. I designed the work in dialogue with the architect and Derix based on architectural drawings, renderings, and photographs of the site. Derix and I have collaborated on many projects, so the fabricators there are familiar with my approach. Once we had settled on a final concept, I traveled to Germany where I handpicked the glass at Lamberts and worked with Derix on fabrication. The panels then were shipped to Charlotte to be installed by a local crew.

Glass: And as this is your first exterior piece, does this represent any new directions for you? Are you looking to get more involved with exterior work?
Housberg: Yes and yes! Insofar as opportunities for exterior work continue to arise, I look forward to creating more.
On a very technical level, this piece represents a shift in the lighting of my work that has evolved over time. I've created backlit installations for years, and over time it's become easier to light the work with more control and requiring less depth and less maintenance with the use of LEDs. When I first started working, and depending on the size of the work, I needed a minimum of 18-inches, which was often a challenge as it meant a reduction of potential tenant space. But, for example, my piece in Charlotte has a depth of something like 8 inches. I never could have gotten away with that before, but so much more is possible now.